The School Management System is a piece of software that is very useful for a school business and educational institutions. It is a school software with many useful features. The software takes care of student admission to student promotion, from fees collection to exam results. There are 8 built-in users (Super Admin, Admin, Accountant, Teacher, Receptionist, Librarian, Parent and Student). You can add custom users like Registrar with custom rights.
It has front-end website where users can login. New users can also apply for enrollment online. Administration can process applicants and enroll them with a few clicks. Save time. Manage online classes like Zoom Live and Google Meet. Contact-less enrollment and classes.
It automates fees computation and collection. Exam module, HR and Payroll, Student Certificates. Parents can monitor student performance through parents' dashboard.
So many features, including inventory, income, expense, library, transport and dorm/hostel!
Features
Admission Module
Quickly add student for admission to the school. Record student information, siblings, parents, documents, and fees.
Manage homework, attendance, student history, exam results, grades.
Zoom & Google Meet Classes
Manage online courses. Course Reports. Online and Offline Payments. Manage Zoom Live classes and Google Meet.
Fees Module
Manage fees. Automatically remind parents of tuition and fees. Allow online and offline payments. Manage type of fees and discounts.
View overdue accounts. Students can login on front site, view fees, and pay online.
HR & Payroll
Manage staff directory, attendance, leaves, payroll. Add departments, teacher ratings. Customize designations or job titles.
View staff reports, payroll reports.
Academics Module
Manage sections, class, subjects. Class timetable and student promotions. Promote students to next level, or leave school.
Manage lessons plans, exams, grades.
Online and Offline Exams
Manage exams. Build question banks. Automatic scoring of exams. Design admit to class cards. Record exam results, grades.
Create and record exam schedules.
Extensive Reports
Keep track of income, expenses and inventory. Get every type of reports for all modules.
Reports on finance, exams, lesson plans, library, fees collection, fees balance, payroll report, etc.
School Website Multiple User Roles
Front-facing website where users like students, parents, teachers, admin can login to their own dashboards.
Fully customizable user roles and security access.
School Software Features
Our school software has many more features that make school management so much easier.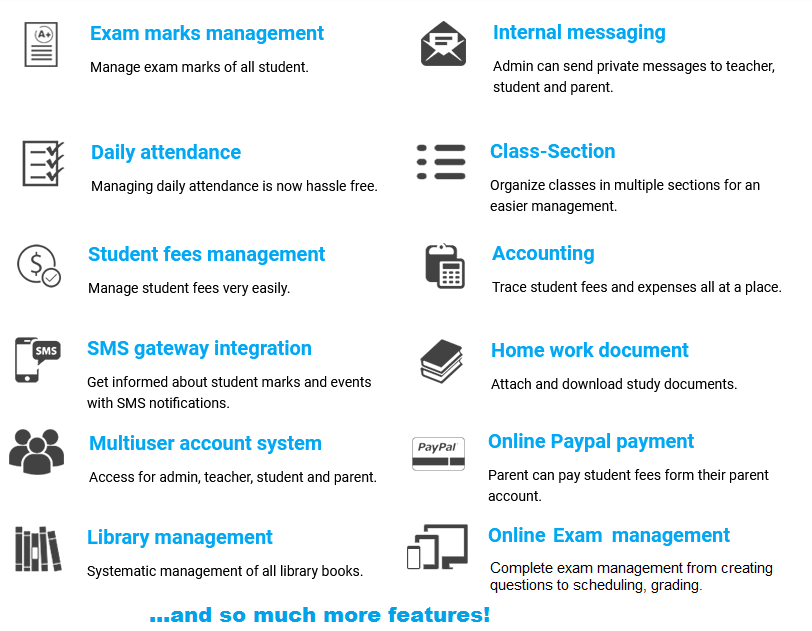 School Management System Q&A