Spare parts stores in Metro Manila start selling on Lazada
Many spare parts stores based in Metro Manila have started to embrace e-commerce by selling in Lazada website. As of Dec 2020, there is an estimated a dozen stores now shipping orders all over Philippines through the Lazada online mall.
This offers convenience for both buyers and sellers as face to face interaction is minimized. Customers don't have to spend many hours going around to find spare parts. Now all they have to do is use their smartphones or computers at home or office to find the parts that they need.
Below are samples of spare parts products being sold on the Lazada online mall: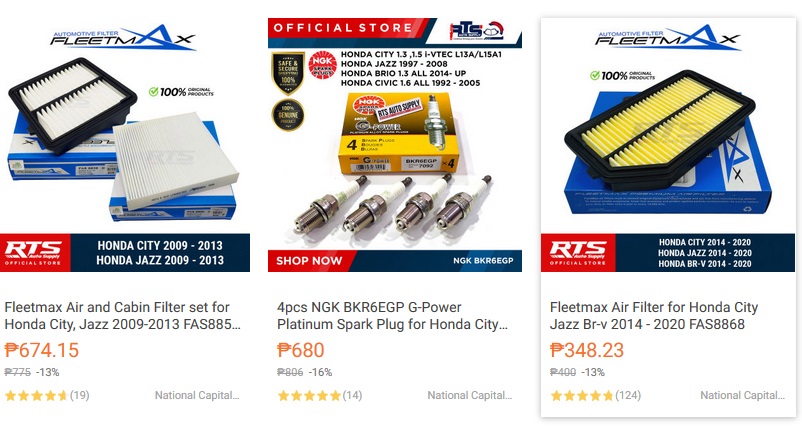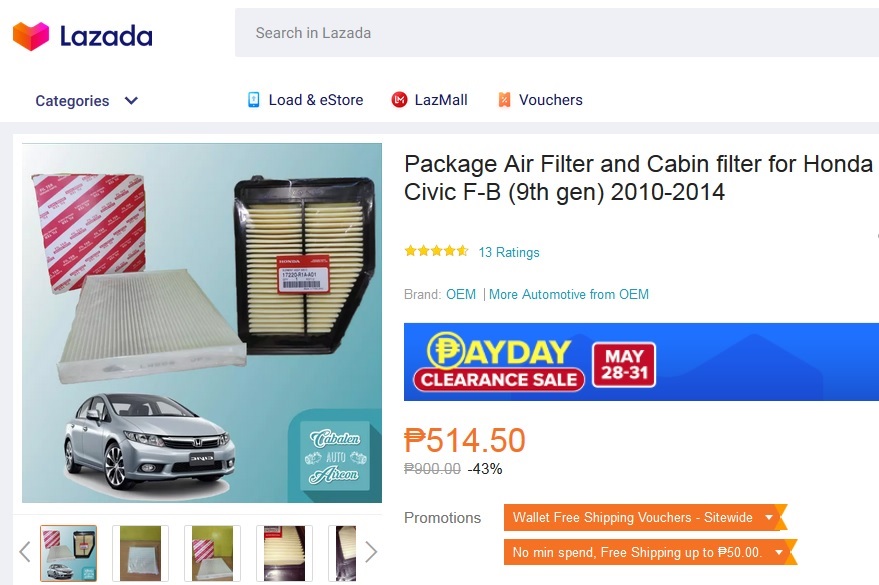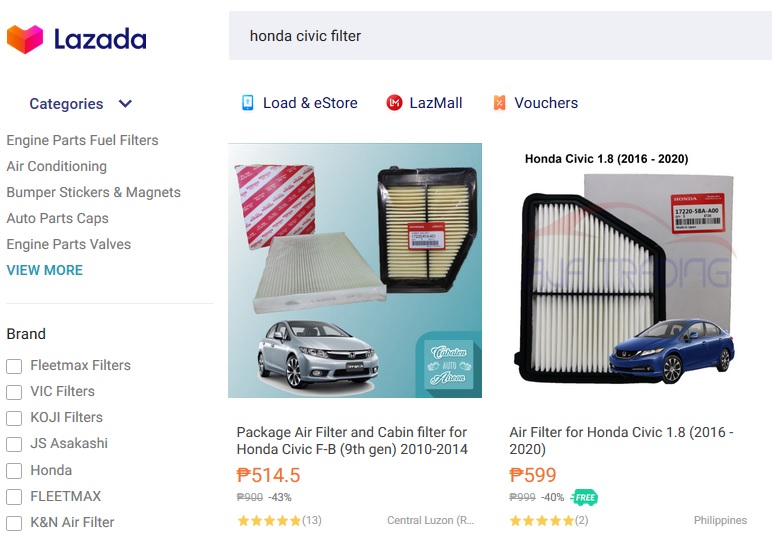 It is now a race on who will dominate in the online spare parts business. Spare parts sold are air filters, oil filters, brake pads, suspension, and other engine parts. Various brands are available like Kayaba shocks, 555 suspension parts, Fleetmax filters, Exedy brakes, NGK spark plugs, Mobil engine oils, Nuvo brake pads, Vic oil filters and Bendix brake pads. Some provide free shipping around Metro Manila. All of them ship to the provinces.
Lazada is owned by the Alibaba group of China. To be a seller on Lazada, you have to pay a commission fee of up to 5%.
What is eCommerce?
Before you can dive headfirst into an eCommerce business, you should know what it includes.
eCommerce encompasses any commercial transaction that involves the transfer of information across the internet.
That's a broad description for a reason. eCommerce can take many different formats. It can include a branded website, mobile app, marketplaces like Amazon and eBay, and social media platforms like Facebook Marketplace, Instagram Shoppable Ads, and Pinterest Buyable Pins.
While there are many ways to sell to consumers over the internet, the main advantage of online selling is you can sell to consumers anywhere, anytime. You can meet the customer where and when they're shopping. It doesn't matter if they're sitting at home on the couch, on their lunch break at work, or even using your app in a physical store – they can complete a purchase online.
The Advantages of Online Stores for Store Owners
Even if you decide to maintain a bricks-and-mortar location to hawk your wares, the advantages of online stores will have you welcoming the wave of Web surfing shoppers.
Bigger Customer Pool
You may already dedicate some of your business budget to reaching new customers, such as placing ads in local papers or buying spots on the radio or television in your market. One advantage to an online store is that you can reach more customers than would ever be able to simply walk through your doors. An online shop removes the blockades of travel, parking and getting lost en route that can drive some customers away. While you can certainly continue to market to your local client base, online you have the option to catering to fans of your product or service that are miles away. Online shops' boundaries are only items such as shipping rates, overseas taxes and the wait a customer may have until his order reaches his door. You may even find your product popular in a place you never would have had bricks-and-mortar access to.
Supply on Demand
Your online store is your outpost on the Internet, but it's a virtual one. In a physical store, customers expect to be able to leave with the sweater they've just bought but in an online store, a period of waiting is expected. You don't have to undertake the risk of purchasing 300 of an item to have in stock in case there's a pre-weekend rush in the store. Instead, you can show one picture of an item and task your employees with keeping an eye on inventory. Software programs can alert you to what you're running low on or whether you're experiencing an uptick in demand for a certain item. Whether you make the items you sell on site or purchase from another vendor, you'll be able to keep up with demand because you'll know exactly what the demand is.
Spacing Out
Almost anything can be a store these days, from someone's garage to a kiosk in a mall to a massive warehouse. But each one of those places comes with associated costs such as rent, insurance, security and decor. Online stores may have their own associated costs, such as your Web hosting and domain fees, graphic design and whether you employ people to do your photographs, or copy and design work, but you're able to spread out as far and wide as your servers allow. You don't feel constrained, for example, of having to mix seasonal specials together in one corner of a shop; instead, create a separate — or several — Web pages for each. Customers won't need maps, elevators or moving walkways to explore your store. They can click through its spaciousness with their keyboards and mice.
Open 24/7 and Always Available
Unless your store is a gas station, convenience store or massive retail mass merchandise shop, its property governance is going to require it to close, whether it be overnight or on certain holidays. Store owners who operate entirely online are free of these constraints. The lights are on and the shop is open even when you're asleep or your employees have gone home for the day. Prospective customers can shop in their pajamas while they wait for their children to go to sleep or in between commercials as they watch television. Online store owners don't even have to worry about overtime pay or round-the-clock electrical bills, but instead get to enjoy the fact that their store's doors never close.