What is the very first step in going e-commerce?
Time is of the essence here. The e-commerce landscape is very much like real estate: you have to claim your property or space.
What do I mean by this? Whoever registers a domain name first, owns that name in the internet universe.
So, first come, first served!
The very first step: buy your own domain name. If your business is in Cagayan de Oro and you are selling jewelry, you need to buy a domain name which looks like cdojewelry.com. Or if your store has a name like Golden Spare Parts, you might choose a domain name like goldenspareparts.com!
The problem is that as early as the 1990s, many prospecting investors have bought out most of the important domain names you can think of. For example, spareparts.com has been taken since 1996!–and jewelry.com has been registered in 1993! Buying these premium domain names now can cost hundreds of thousand of pesos from their original owners. Whereas goldenspareparts.com and cdojewelry.com are still available at a very affordable P500/year (as of May, 2021. It might not last long).
How to choose a domain name
Aside from acting as a website address, a domain name can also be a tool to support a site's branding – it's the first element that people see when visiting a website. Thus, it's crucial to spend some time picking a domain name that suits your project or business.
Here are a few tips for choosing the right domain name for a website:
Pick a short name that is easy to remember
Ensure a domain is easy to spell and pronounce
Stick with a popular top-level domain (TLD) like .com
Refrain from using numbers and hyphens
Utilize domain name generators to get more domain name ideas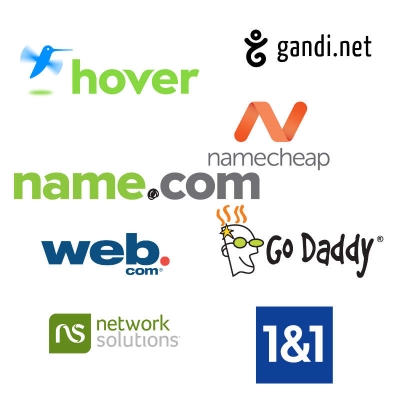 Nevertheless, every great website needs a snappy, memorable domain name. Coming up with something new is a serious challenge, but once inspiration strikes, you'll need to register (buy) that name with a domain name registrar before you can use it online. Where do you buy it?
There are hundreds of domain name vendors (registrars) in the world. Some of the more popular ones are:
Godaddy.com
Domain.com
Bluehost.com
NetworkSolutions.com
Namecheap.com
Google Domains
How to choose the perfect domain registrar
Pricing structures can be complicated. A low headline figure could become expensive on renewal, for instance. Prices vary between domain extensions, too, so a registrar that offers great value for a .com domain might give you a poor deal on when it comes to .org.
There may be extra costs for tasks like transferring your domain to another registrar, too. Read the small print before you sign up.
Look for any bundled or optional extras. A Whois privacy service prevents your address, phone number and email address appearing as public contact details for the domain, something which could otherwise get you a significant amount of spam email and phone calls. We've seen this cost as much as $11.20 a year, but several registrars may provide it for free when part of a more expensive bundle.
Many domain registrars offer hosting as an extra, but keep in mind that web hosting companies can also register domains. If you have an idea of which web host you'd like to use, check the details of its plans: you may be able to register a domain for free when you buy hosting, and that's often the cheapest option.
Finally, take a look at the support a registrar offers. You may never need any help at all, but if anything critical crops up – maybe an issue which might cause a problem with renewal – it's important that your provider is on hand to ably assist.
What is the next step after buying a domain name?
So you have acquired your ideal domain name. What next? The next step is to get a hosting provider.